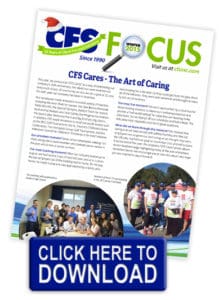 Did you receive our winter newsletter? If not you missed…
• Summary of CFS Cares – The Art of Caring
• A great recipe from our Marketing Coordinator, Cathleen Drury
• How to market your brand in 2016
• Tips to help protect your eyes this winter
• And much, much more!
If you didn't get it, don't worry, click here to download a digital version.
If you would still like a printed version and want to receive upcoming newsletters in the mail, click here to contact us.