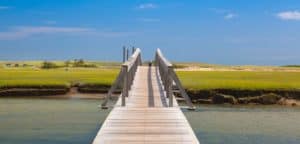 Why we chose Sandwich
For the 27 years CFS has been in business, we have seen an increase in our on-Cape clients and partnerships. To bring our marketing solutions, including online and direct mail marketing, print, signage, fulfillment, and event support, to more of the Cape community, we expanded our operations and opened a new office on Cape in Sandwich.
When we were deciding on an office, we wanted to feel a sense of "home", as well as the perfect location. Our clients are spread throughout Cape Cod, so we wanted a location that was convenient for our clients to stop by and discuss current or upcoming jobs. The "home" feeling was instant when we looked at what ended up being our current office. Sandwich is a beautiful town, with a great history. We feel we are a part of the community, and we believe our decision was a great one. I was inspired to write this blog post from Cape Cod Life's article: Sandwich Photo Essay: A slice of life in one of Cape Cod's prettiest towns. Click here to read it.
"We have felt very welcomed by the people we have met since being here, and we can't tell you how much we appreciate it. We're going on about 6 months in the office, and I'm glad we chose Sandwich. There's a major sense of pride coming from the town's residents and workers – and we're excited to share it with them."  – Greg, President, CFS
Sandwich background
Sandwich, founded in 1637 by Edmund Freeman, is the oldest town on Cape Cod. According to Freeman, the town and the bordering sea closely resembled Sandwich, England which is why it was given that name. By 1639, there were approximately 60 families settled in Sandwich. As of 2010, the population was 20,675 people.
Sandwich is a very popular tourist spot during the summer time due to having 6 beaches and a lot of local landmarks – such as Heritage Museums and Gardens, the Dan'l Webster Inn, the Dexter Grist Mill (oldest on Cape Cod) as well as the picturesque Sandwich Boardwalk. The Sandwich Boardwalk was elected by National Geographic in 2010 as one of the top ten boardwalks in the United States. The boardwalk is 1,350 feet in length and stretches from Scorton Creek to the Cape Cod Canal. Back in 1991, the boardwalk was almost destroyed by Hurricane Bob and was rebuilt with the sale of 1,700 personalized planks with engraving.
Sandwich is most famous for being an early site for Quaker settlements, and having the first press glass company; the Boston & Sandwich Glass Company.
We are very proud to call Sandwich CFS's Cape location home.
Sandwich History: http://sandwichhistory.org/history/
http://en.wikipedia.org/wiki/Sandwich,_Massachusetts


About the Author:
Tim Slattery is the CEO and founder of CFS, Inc. in Norton, MA. He has over 27 years of experience and leads a dynamic group of people who successfully deliver superior and flexible marketing solutions and product support services to our world-class clients. You can contact him at [email protected] or click here to connect with him on LinkedIn.