2014 saw a rise in technology promotional product offerings, while some classic items saw a resurgence in popularity. We have compiled a list of the top 5 promotional products of last year and the reasons why they will still be in demand in 2015.
Power Banks
With the use of smartphones and tablets at an all-time high, these on-the-go chargers were all the rage in 2014. Popular among both travel-weary business people and tech-savvy students, you won't go wrong investing in this promotional item.
Phone Wallets
A powerful marketing tool, these affix to the back of your smartphone, allowing you to carry your cards and money all in one place. This is a high visibility item, where users will have your brand on display 24/7.
Texting Gloves
Continuing along the technology line, texting gloves give the user an uninterrupted technology experience, while staying warm. Use your brand colors to add recognition to your logo.
Stylus Pens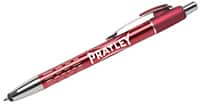 The pen continues to be a strong promotional product that places your brand in everyday users' hands. Constantly on display around the office, in meetings, and even at tradeshows – the pen allows your brand to reach a broader audience. Adding the stylus function gives the pen an exciting advance in today's technology-based world.
BPA Free Water Bottles

Probably the promo item with the greatest endurance, these water bottles give you a larger canvas to display your brand. Customers and prospects will hold onto these and over time can give visibility to your brand in new workplaces and many other social & networking settings.
We provide an extensive promo catalog – ranging from apparel to sunscreen, we have over 700,000 products at our fingertips.