Spring has finally sprung! When the sun is shining and the flowers are blooming, it is always a good sign of the seasons to come. Now is the perfect opportunity to look at promoting your business with these spring promo products.
Here are the top 4 spring promo products:
Umbrellas – Spring is the rainy season, as well as the start of the golf season, so giving an umbrella as a promotional item is always a great idea. Your brand will be at the top of your prospects head each and every time they use it.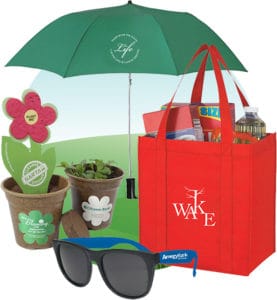 Sunglasses – With summer just around the corner, sunglasses are one of the top items people use. Why not help keep your clients and prospects seeing clearly when it is sunny outside with a pair of branded sunglasses.
Tote Bags – When the weather gets warmer, people want to be outside. Simple tasks such as reading a book, having a meeting or eating lunch become more enjoyable when done outside. With a branded tote bag, clients will be able to store all of their outdoor items for easy travel and accessibility.
Flower Seeds – Flower seed packets are an environmentally friendly promotion, and they are also a great way to get your message out to the public. There's no better way to show your prospects and clients that you care about being green.
Looking for more products for your upcoming spring marketing promotion? Let CFS help you grow your brand!

About the Author:
Cathleen Drury is the Marketing Coordinator at CFS, Inc. in Norton, MA. You can contact her at [email protected]