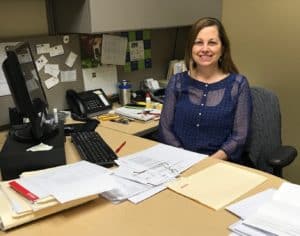 Meet our Controller, Susan. Sue has been a part of the CFS team since August 2016. She oversees all financial functions – including payroll, billing, accounts receivable, financial compliance, and reporting. She also manages human resources for CFS – including benefits and other employee relations programs and policies.

Let's get to know Susan a little bit more!
What do you love to do on weekends?
I love to spend time with family and friends.
Have you ever traveled outside of the US? If so, where?
Yes. I have been to Canada, Jamaica, Bermuda, Mexico, and  Russia.
What was your first job?
Waitress at Newport Creamery.
If you could live anywhere, where would it be?
Probably on a Mediterranean island.
What inspired you to do what you do?
I love working with numbers and solving problems.
Click here if you'd like to connect with Susan on LinkedIn. Stay tuned for more Meet the Team!