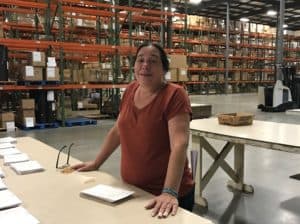 Meet Laura. Laura oversees all aspects of our Operations Department including direct mail, print, bindery, assembly, receiving, and fulfillment. She trains and mentors team members, and ensures her team is continuously WOW'ing our clients.
Let's get to know Laura a little more!
What is a random fact a person may not know about you?
I love to bake and decorate cakes.
What superpower would you like to have?
I would have to pick flying as a superpower. I want to travel more, so with flying I would be able to do that.
If you could live anywhere, where would it be?
On a lake. I find the water very relaxing. If I were to live on a lake, I would want to make sure it faces the west so I could watch the sunset every night. 
What is your proudest accomplishment?
My proudest accomplishment would have to be my children and our home. Over the years, we've been lucky enough to help others by taking them in when they needed a place to call home. 
What are a few of your hobbies?
Gardening, kayaking, painting, and baking. 
What is your favorite season?
Fall is my favorite season. Cold mornings and sunny days are perfect. Every October, we have "scary dinner Sunday" which is every Sunday we have company over, and our family makes meals that resemble scary things. 
Stay tuned for more Meet the Team!