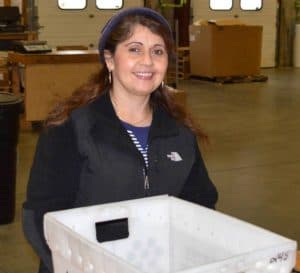 Meet Elsy. One of our production associates, she is an expert in many areas of fulfillment, hand assembly projects, quality control, inspecting, verifying, and packing client orders. 
Learn more about Elsy…
Do you have a favorite moment helping a client?
My favorite moment helping a client would have to be the big Ocean Spray project we did back in February. It was a large project, so it became a true team effort. It was great to see everyone come together and work so hard on this project.
What do you love to do on weekends?
On weekends, I like to relax and spend time with my family.
What is one of your fears or phobias?
My biggest fear is heights.
Do you speak any other languages?
Yes, I also speak Spanish.
What superpower would you like to have?
I would love to have psychic abilities such as seeing into the future.
Stay tuned for more Meet the Team!