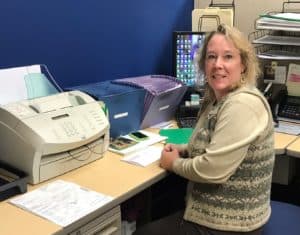 Meet Edna. Her main focus is in the billing department, but she also helps take care of account payables, accounts receivables, payroll, and human resources support as well.
What inspired you to do what you do?
A love of learning. I started years ago as a receptionist one of the employees had a long-term medical issue and I volunteered to do her accounting job. I haven't stopped since.
What is a random fact a person may not know about you?
I love to cook, bake, and experiment with recipes. My husband Chris and I have a love of food and trying new things. We are constantly in the kitchen trying to outdo each other and having a blast.
What advice would you give someone going into your field?
Be a sponge. Absorb and learn everything you can. You never know what you will need and when.
What is your favorite outdoor activity?
Sitting by a campfire relaxing with family and friends. I just think it's a great way to decompress. I love the outdoors.
If you could live anywhere, where would it be?
I think probably New Hampshire. I love the change of seasons and all that New England has to offer. I would love to have a cabin, lots of land, and animals to go with it.
Click here if you'd like to connect with Edna on LinkedIn. Stay tuned for more Meet the Team!