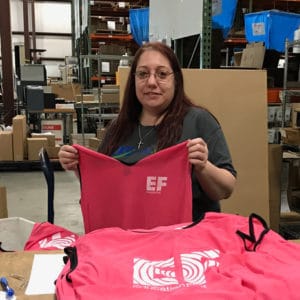 Meet Debbie, she is an important member of Team CFS. She is an expert in many areas of production – such as working on your complex assembly of packaging projects and programs.
Want to get to know Debbie more? Continue reading!
What is your favorite season?
My favorite season has to be summer – I love doing outdoor activities.

What do you love to do on weekends?
I love to go to the movies, out to eat, as well as reading. During the summer I love to go fishing.
Do you have a favorite moment at CFS?
My favorite moment is when I won CFS Employee of the Year. It was such an honor to have been chosen among all of the other great team members.

What was your favorite subject in school?
My favorite subject was science but more specifically marine biology.
What's your favorite holiday?
Christmas is my favorite holiday. I love the decorations, the music, and the overall excitement and magic of Christmas.
Stay tuned for more Meet the Team!