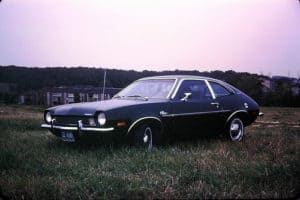 Let's imagine its 1971 and you're looking for a new car at your local Ford dealership. You're very excited and it's a really big decision. The first thing you see when you walk in is a Mustang BOSS 351 and it takes your breath away. The price is $3,500.00 dollars, which is a lot more than you planned on spending. The next car you see is a Ford Pinto for $2,000.00, it's an odd, little car that gets better mileage and is a much cheaper option. You decided to save the money and go with the Pinto. But shortly after your purchase, things begin to go wrong. The dealership warns of problems with the design of the car that can lead to fatal fires in rear end collisions. The car also has many other mechanical problems, which increases your costs to repair it, never mind that you can't go anywhere because it's always in the shop. The Mustang Boss 351 would have been an exciting vehicle that would have cost less in repairs and left you with many great memories and not to mention a lot more attention. Also, if you kept the Mustang, they now sell for $53,000 dollars at auction today… the Pinto – not so much! When making any decision and price is the most important driver, you have to consider the hidden costs associated with choosing the lowest price. In this case, cost of the repairs, the time it took to get it repaired, the frustration of having to find another way to get around until it's fixed.
The same can be said with choosing a marketing or fulfillment partner that offers you the lowest price. Ask around! Talk to their customers. Ask questions. Have they let them down? What was the cost of that? How many times did it happen? What did their boss say? How many times did they accept that excuse? The lowest price can sometimes cost more than just a lot of frustration, it could even cost you your job!
Even though it may be tempting to go with the lowest price when it comes to your business, it probably isn't the best solution. It's always important to ask questions. In the end, going for the lowest price can often cost you a lot more.
Click here to contact us and see what CFS can offer your business that our competition can't!
P.S. Join us next week to see why the mountain climber didn't buy the cheapest rope.
Photo credit: France1978 / Foter / CC BY-SA