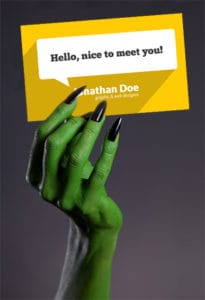 Business cards are a dime a dozen. You can probably get them made for less than that, but should you? Because so many people have business cards from dozens, if not hundreds, of contacts, it is essential that you create one for yourself that stands out from the rest. Not sure where to start? Here are some tips on how to create a killer business card that stands out!
What must your business card contain?
Name
Company Logo
Company Address
Preferred Phone Number
Preferred Email Address
Website Address
What should your business card NOT contain?
Email and website address labels – These are no longer necessary as 99% of people know exactly what they are, i.e, www.cfsinc.com should be cfsinc.com and email: [email protected] should be [email protected]

Multiple phone numbers – Do not introduce yourself by saying, "This is going to be one long game of phone tag." Pick a number and stick to it.
Contrasting style – If your business cards do not closely match your company branding, toss them and try again.
Errors – There is no room for them or typos on your business card. Proof your card carefully.
Tips for a business card that goes beyond the basics:
High-quality paper stock – Avoid discount business cards; they barely feel like cards at all because they are exceptionally cheap and thin. Choose a high-quality, thick paper stock that is about 16 pt thickness and your clients will be able to feel the difference. This conveys a subtle message about the quality of your business.
Simple, sophisticated style – Do not overwhelm your business card with too much information; it makes it confusing and difficult to read. Use a streamlined design and only include necessary information. If you use QR codes, utilize the extra space and put them on the back of your card.
Clean and crisp font – Choose a font that is easy to read in a small format. Don't make your clients struggle to read your business card.
Unique and different shapes – There are hundreds of innovative options available for business cards. While different shapes and sizes can stand out in a crowd, consider your audience before choosing something out of the ordinary. Will clients likely be annoyed that your cards don't fit into a normal card case or will they think they're clever? Don't take it personally! Remember, it's about them, not you.
Creating a killer business card is important.  The next person you hand it to may be your next client so be sure it makes a great and lasting first impression. Call 800.466.9880 or click here to contact CFS and let our expert design and print teams help you create a killer business card that stands out.

About the Author:
Tony Pires is the Director of Operations at CFS, Inc. in Norton, MA. Tony serves as a leader in developing new business and strategic partnerships with our clients. You can contact him at [email protected] or click here to connect with him on LinkedIn.