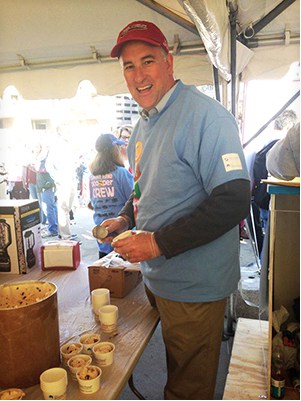 This year I volunteered at the Dana Farber Scooper Bowl Fundraiser event. I received an email that they were looking for volunteers and my son Kevin needed to fulfill service hours for high school. I thought it would be fun to volunteer together and try some new ice cream flavors!
CFS helps Dana Farber with Event Support and, in that capacity, I have been to the Scooper Bowl many times. This successful event has raised over $4.5 million since it began in 1983. CFS makes sure their signs, cups, spoons, T-shirts, & hats (among other things) are strategically delivered to the correct locations for the event. If the event required more cups or spoons than originally anticipated, I would make the delivery personally to experience the event and to look for ways to improve our service.
When Kevin and I arrived we checked in at the volunteer tent. The event coordinators were there addressing the line of volunteers, making certain that we all had the proper size hat and t-shirt and knew where to go. They were so busy answering questions from volunteers and ice cream vendors who were working the show, yet they were doing it all with a smile.
Kevin and I made our way to our booth to scoop the ice cream. We were serving Yuengling Ice Cream – a division of Yuengling Brewery. We started scooping Black and Tan ice cream right away. The pace was fast and did not let up. We scooped tub after tub of ice cream for 3 hours straight. The employees from Yuengling worked from 10 a.m. until 8 p.m. Toward the end of our shift, I thought," We can't leave these people; they will never keep up with the demand". Then precisely at the 3-hour mark, a fresh pair of volunteers entered the booth to replace us. I thought that was great coordination by the Dana Farber team & staff!
"The difference between observing and doing changes your perspective completely."
I realized how many different responsibilities the event coordinator has and, that without volunteers, these events would not be possible. Dana Farber has a great way of making their volunteers feel appreciated while still focusing on and meeting their fundraising goals.
Experiencing a client event as a volunteer is another way we at CFS work to understand what our clients need on the day of the event and just how busy they are making their event successful.
Click here to contact us and experience the CFS difference!

About the Author:
Greg Jezard is the President of CFS, Inc. in Norton, MA. He has over 20 years of experience helping clients with their marketing and fulfillment needs. You can contact him at [email protected] or click here to connect with him on LinkedIn.