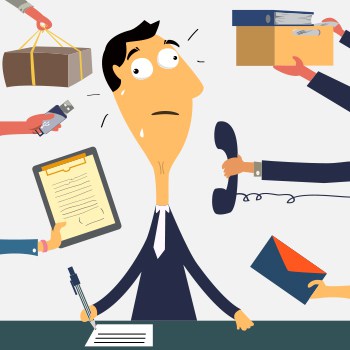 Whether it's an intimate conference or a large-scale fundraiser, pulling off a successful event takes a delicate balance and requires significant investment in time and resources. As with planning any professional gathering, it is possible to feel a tremendous amount of pressure; attendees have invested their valuable time, and you must convey your message in a timely and effective manner. Do you feel overwhelmed when planning an event? Are you currently using an event support provider, but aren't satisfied with the results? Before you start planning your next event, consider consulting an experienced event support specialist, one with a proven track record of success.
Here are three event planning complaints that we hear from organizations who turn to us for help:

1. We need to be more organized! With materials to develop, produce and keep track of, it's easy for many organizers to begin planning for an event in a state of disarray. The last thing anyone needs to do is scramble at the last minute as complications arise (and they usually do!). Plus, do you have enough space to store all of your printed materials? Are they accessible and available to review, to ensure sure they are updated and in suitable condition for your next event?
2. This is so time-consuming! Planning for events can sometimes seem like a full-time job, and you undoubtedly have many other responsibilities competing for your attention all hours of the day. Without experienced event support, you can find yourself pressed for time and trying to juggle too many balls at once. Unfortunately, what happens is one or more areas predictably suffer.
3. Will our event materials be delivered on time? There are a few things worse than finding out that your event materials aren't going to arrive until it's too late. You could spend months planning every little detail, and one shipping or production snafu can ruin the entire event, wasting valuable time and money.
Here are a few tips that can help you better prepare for your next event:
Know your goals.
It is easier to plan for an event if you know your goals. What are you hoping to achieve? Are you promoting a product, raising money, or generating leads? Once you set your goals, you'll have a better understanding of what you need for the event to accomplish your objectives.
Have a checklist.
With so many variables it can be difficult to keep track of everything you need. A checklist provides a step-by-step guide to organizing and executing your next event. Don't have one? Click here to download our helpful checklist.
Manage your calendar.
When do you have to register? When do you need to send invites? When should you post on social media? When can you drop off your material? When can you set it up? Do you have the answers to these questions? If not, find out. Keep track of every important date leading up to the event, that way you're never caught off guard. Mark all event deadlines down on your calendar.
Ask for help.
Remember, the fundamental goal is to have a successful event. If you feel overwhelmed and don't think you can pull it off, ask for help. Preparing for a large event is typically a team effort, so if possible, get all hands on deck. If there's still too much to do, consider partnering with an experienced Event Support Specialist like CFS.
CFS has dedicated professionals who can help you take care of every facet of event support for your organization.
We specialize in across-the-board event support, from beginning to end and beyond. We take care of all aspects of event support so you don't have to! Ready to plan your next event? Don't start without seeing how CFS can make sure your next event is not only successful but goes off without a hitch.

About the Author:
Tim Slattery is the CEO and founder of CFS, Inc. in Norton, MA. He has over 25 years of experience and leads a dynamic group of people who successfully deliver superior and flexible marketing solutions and product support services to our world-class clients. You can contact him at [email protected] or click here to connect with him on LinkedIn.