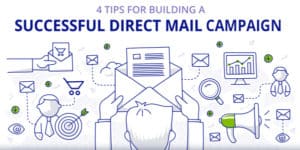 Direct Mail Marketing includes the use of many different forms of printed marketing materials including postcards, catalogs, brochures, and newsletters. These are then mailed directly to potential clients to introduce your business, boost interest, and ultimately, increase sales. Although sometimes viewed as old-fashioned, many prefer this tried and true method of marketing. With that said many businesses do not understand just how much goes into building an effective direct mail campaign.
Here are 4 tips for building a successful campaign.
Understand your target market – If I asked you who you think your target market is, odds are that you would probably say, everyone. But think about it, would a real estate agent looking to sell new homes target consumers who recently purchased one? Details such as purchase behavior, lifestyle, habits, and attitude toward marketing and media, will help you build a much more effective message to potential customers. By developing or purchasing a well-targeted mailing list based on the geographic and demographic of customers you'd like to target, you have a better chance of getting the results you're looking for.
Use an "eye-catching" image – A picture is worth a thousand words and nothing gets your audience's attention quicker than an "eye-catching" image – something that draws them in and gets them to read your message. While there are several ways one can go about selecting an image for their campaign, choosing something that connects with your target audience is the best way to proceed. Keep the image simple, and make sure it is a high-resolution photo. 
A strong call to action – Without a strong call to action, your marketing will always be ineffective. A strong call to action will both appeal to your customers' emotions and invite them to commit to some action to remedy their issues. Using phrases such as "Sign Up Free", "Join for Free", "Download for Free", or "Learn More" will ultimately drive interest, motivating potential consumers to learn more about what it is that your company can do for them.
Proofread – Nothing ruins a well-designed direct mail piece faster than grammatical errors. Have it proofread by as many people as possible before mailing it out, so it doesn't cost your business time, money, and more importantly embarrassment.
Direct mail marketing isn't as easy as it looks. However, if you follow these tips you will be well on your way to attracting new customers with a superior direct mail campaign!


About the Author:
Cathleen Drury is the Marketing Coordinator at CFS, Inc. in Norton, MA. You can contact her at [email protected]