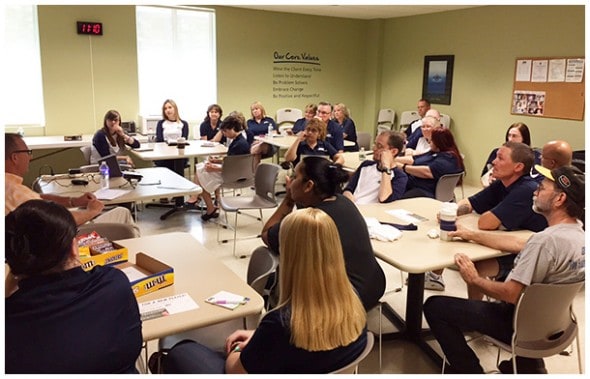 Tim Slattery, our CEO is having an open discussion on our company culture
and values at the CFS town hall meeting.
When you walk around your business and get a sense of the atmosphere of the workplace and the attitudes of your staff, does it make you feel good?  Do you feel like everyone (well almost everyone) is on board with what you want the company to be?  Is your vision of the company reflected in the behavior and performance of your team?  I hope so, but if it's not then you have to think about how that atmosphere is affecting your company outside of the building.  How it is affecting your brand and reputation within the community you serve as well as the relationships you have with your clients.
Do not forget that the attitudes and outlooks your employees have toward your company also have an impact on your marketing efforts.  You can promote your services and how much you care about your clients within your marketing material and campaigns, but it's your employees who translate these messages into real conversations and relationships.  They are talking to and interacting with your clients regularly; their feelings toward your company will creep into those discussions, good or bad.
Your internal company culture and values should be in harmony with those you market to your clients. If you talk about friendly courteous service but oppositely treat employees, how do you expect them to reflect those values when communicating with clients?  If you promote honesty and integrity in your marketing, but then ask employees to mislead or deceive clients to increase profit margins, you create contradictions that ultimately will impact your relationships.
Company culture and values are not words to put on a mission statement or in employee manuals because they fulfill a requirement.  They must be what your company holds as the cornerstone of who you are, what you do, and how you do it.  Culture and values must matter and be reinforced in all aspects of your business.  When you do this, you create a team of people who are proud of where they work and what they do; they will talk about your dynamic and positive atmosphere to clients, friends, family, and everyone they meet.  They will become an extension of your marketing efforts and the message you try so hard to get out to the people you serve.  They will strengthen your brand and relationships with everyone your company is in contact with; when all of this is genuine, your company will grow faster than any single marketing campaign could create.
You spend a great deal of time and money on your marketing efforts to reflect an image that you are proud of and your clients would want to be a part of.  So let's make sure that the culture and values that you are projecting outward are the same that you hold within the company.  By doing this, you create an internal and external marketing machine that will drive your business further than any marketing campaign could ever do alone. Want to learn more?

About the Author:
Tony Pires is the VP of Business Development at CFS, Inc. in Norton, MA. Tony serves as a leader in developing new business and strategic partnerships with our clients. You can contact him at [email protected] or click here to connect with him on LinkedIn.