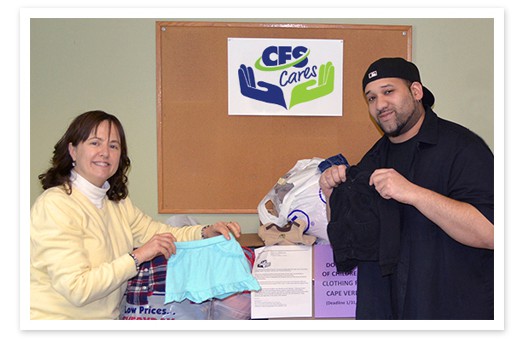 Vice President of CFS, Kelly Newcomb pictured here with Team Associate, Chris Barbosa.
2015 is a very exciting year in CFS history. This year, we celebrate the 25th anniversary of our founding in 1990. Since then, we have grown steadily thanks to our dedicated employees, dynamic customers, and the caring community that has supported us for over 2 decades.
Anyone who has worked with CFS knows that we are VERY into what we do…we've often described ourselves as "perfectionists who are geeky and passionate about marketing services".
Fortunately, our employees are multi-faceted and thoughtful individuals who are also passionate about performing community service during their off-hours.
In honor of our 25th anniversary, we've launched "CFS Cares". Through CFS Cares, we will celebrate bringing our passions for work & serving the community together. We look forward to sharing these with you throughout the year and hope you enjoy watching our progress.
Our first act of community service was brought to our attention by one of our team associates, Chris Barbosa. In December 2014, there was a devastating volcano eruption in Cape Verde; Chris' family collected donations of new or gently used children's clothing to donate to the victims of this natural disaster.
CFS team members participated and we were able to donate a large amount of clothing which will be delivered to those in need. We hope to post pictures of our donations arriving in Cape Verde. Thank you, Chris!
Look for more acts of community service in the future.