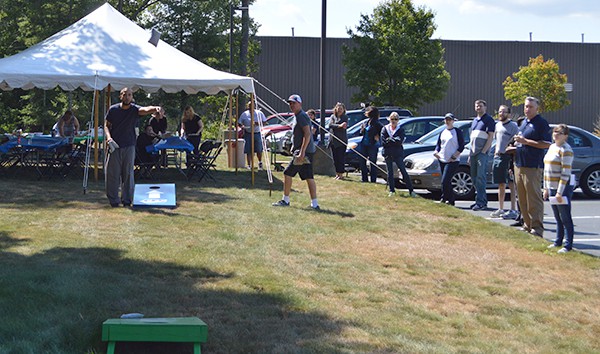 Our team members are the most important asset at CFS, and without them, we wouldn't be where we are today. No matter who you are, stress eventually builds up and there needs to be a way for it to be released. This is why at least every quarter we make a point to host a team event or fun activity. Whether it's a cornhole tournament or a birthday celebration – we want all of our team members to have fun and feel engaged. We're a particularly competitive bunch especially when it comes to games. We believe getting together as a team frequently, will decrease stress levels, allow everyone to have fun, and boost morale.
We like to plan our events early, doing so gives our team something to look forward to. If we're gearing up for a cornhole tournament, a bracket is created and posted up to a week in advance for everyone to get an idea of who they're teamed up with and competing against, as well as to allow them to practice when they have free time. It's a great feeling to see everyone get excited for an upcoming event, and witness how much they get into it.
These events allow team members to take a mental break from their daily routine as well as alleviate stress about the projects they're working on.
The most important part of each activity we schedule is to make it as fun as possible. Some of the past activities we've hosted are team games, fundraising events, pizza lunches, and annual cookouts. Our favorite event, which has become an annual recurrence, is our cornhole tournament. It's a great way to get team members working together and rooting for one another. We just held our most recent tournament during our Summer Cookout. Click here to check out the photos.
Employee happiness is the key to any successful business. Taking time to schedule activities or events helps with team building, and encourages everyone to laugh with one another. Does your company host fun activities or events? Let us know in the comments!

About the Author:
Tim Slattery is the CEO and founder of CFS, Inc. in Norton, MA. He has over 27 years of experience and leads a dynamic group of people who successfully deliver superior and flexible marketing solutions and product support services to our world-class clients. You can contact him at [email protected] or click here to connect with him on LinkedIn.