As part of our marketing strategy, CFS actively participates in several trade shows and conferences each year. These events have proven to be a great way to promote our brand, products, and services; in addition, they are an efficient way to network with a large number of potential customers.
The next time your business participates in a trade show or conference, take a step back and look at your booth. Ask yourself this question: "Is my booth getting the attention it deserves?" If the answer is no, read on!
Here are 5 essential strategies that you can employ to ensure you are getting the most out of your trade show investment:



Seek a high-traffic area for your booth – When registering for your exhibit space, research all booth size offerings. If you do not see options, ask the event organizers. The more expensive spaces will have a larger footprint and possibly a more strategic "high profile or high traffic" location. If cost is a factor, ask about speaking, membership, or sponsorship opportunities as these often come with additional benefits such as a better location for your booth. When all else fails, ask if you can negotiate cost, space, and/or location.
Take steps to stand out – Many events include a table and a small sign listing the booth owner's company name. It is amazing how many companies use this small sign to promote themselves on the event day. These lackluster booths blend into the background and do not get "investment-worthy" attention. Add a large, colorful branded banner to your booth and stand out amongst the other exhibitors. Provide an engaging activity such as a game that forces attendees to stop and watch; eventually, they will want to play as well!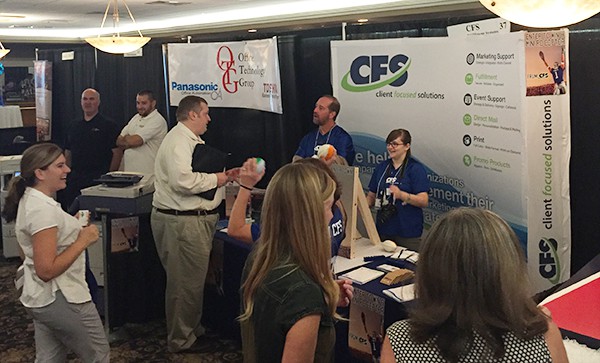 Team CFS at the 2015 SouthCoast Business Expo at White's of Westport
Be "social" and cordial – Highlight your attendance at the show on social media before, during, and after the event. Research the hashtags that will garner you the most bang for your buck; most shows publicize suggested hashtags and make sure you know them. Thank your visitors by sending a follow-up Thank You email immediately following the show.
People like free stuff – It's a simple fact that people like to get cool, innovative items for free. While the main objective of exhibiting is to sell and promote your brand, you have to remember that not everyone will be interested in what you're offering. Change that by handing them something they can't pass up; make sure all giveaways are branded with your logo and website so you have a better chance of being remembered after the event.
Be approachable and assign roles – Staff your booth with the most engaging members of your sales and marketing teams. You know, the ones who want to be in front of the exhibit interacting with and having fun with attendees (not the ones more apt to have their heads down, texting, or talking to co-workers instead of attendees). Meet during the weeks before the show to discuss and assign team members their roles for the day. Who will post on social media? Who will handle the raffle? Who will manage the interactive game? Who will engage passersby? The more organized, engaging, and approachable you are, the more attendees will take notice and want to learn more about your brand.
It is not difficult to have a successful exhibit on event day, but it does take planning and a strategic marketing approach; if you need some help, click here to contact CFS and we will get you started.

About the Author:
Kelly Newcomb is the VP of Strategic Initiatives at CFS, Inc. in Norton, MA. She is an accomplished leader with a background in fulfillment and project management; Kelly is the creator of CFSprocess+, our innovative client-focused business mapping methodology. To learn more about how we can create roadmaps for success for our clients, you can contact her at [email protected] or click here to connect with her on LinkedIn.