Did you make any resolutions this year? New Year's resolutions to stay healthy or make personal accomplishments are great, but they don't need to only apply to individuals. What are some of the resolutions you could use to make your business better this year?
It might be tempting to simply set a new sales goal. But let's go beyond sales figures and delve into something new for your business this year. Here are a few ideas to get you going.
Outsource and Get Out of Your Way
Is it time to outsource some of your processes? We know it can be hard to let go of control because you care about all of the details so much that it feels risky to let someone else take over a task, but just remember your goals for growth. Delegating tasks gives you the time and energy required to expand your business. So be brave and be strong and get outsourcing. These are some of the most common areas to start:
-Print management
-Fulfillment
-Social media management
-Database management
-Marketing and outside sales
Nerd Wallet points to a few questions that will uncover areas where outsourcing can best help your business.
Motivating Thought: If I outsource some tasks I allow myself to grow to meet my goals.
Direct Mail is New Again
What are your primary marketing channels? You may already have social media campaigns and email follow-ups, but many businesses overlook postal mail without knowing its true potential. When done correctly, direct mail can be one of the biggest conversion sources available to your business.
Direct mail now pulls a higher response rate than any digital direct marketing medium. The response rates for direct mail range from five to nine times greater than that of email, paid search, or social media.
Even better, direct mail is easy to implement and it is cost-effective.
At CFS, we have over 30 years of experience in the custom direct mail industry. We offer database management and personalization for higher returns, as well as enhanced mail tracking for better data analysis across all platforms. Learn more about our range of services to support your success.
Motivating Thought: Adding direct mail this year will make my business stand out.
Look Within to Improve
Chances are, your business received some comments that you didn't like in 2021. It's natural to get negative feedback as well as positive. You know you're doing a lot of things right, so don't be afraid to consider areas for improvement.
A good place to start is customer service. Things will always go wrong, that's life, but the way you respond is everything, right? When that customer's order was late, or when the package was crushed, maybe they ordered the wrong size and get cranky about the return… it's all good.
Take a look at the messages you received in 2021 and the responses; think back to the issues that stood out in your mind; look at returning customers and consider the interactions that you've had, good and bad, with your customers or prospects and find at least one thing that you could do better and one thing you nailed and want to continue doing.
Motivating Thought: Every problem is an opportunity to make a good customer service impression.
Apply for Official Help
Did you know there are numerous loans, grants, and programs to support small businesses? Furthermore, there are certifications that you may be eligible for, which can enhance your brand's credibility.
This is the year to take advantage of federal opportunities for support and growth, as well as certifications that could help your brand stand out as an authority. Forbes has some helpful tips to utilize these opportunities.
Motivating Thought: External support is available to make my business stronger.
Don't Stop Now
There are many more ideas out there to help your business evolve and grow this year. We have selected just a few of the most effective ways in this article. Let's explore how the team at CFS Inc. can partner with your brand in the coming year.
To Your Success!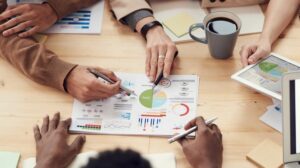 Resources
4 Tips for Building a Successful Direct Mail Campaign
When done correctly, this tried and true method is very effective.
Are You Committing These 4 Direct Mail Mistakes?
Avoid these common mistakes so that your mail piece ends up in the right hands.