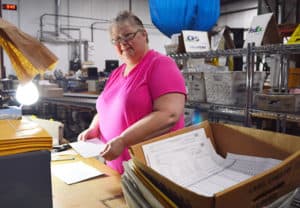 Donna is an important member of Team CFS. She is an expert in many areas of fulfillment, hand assembly projects, quality control, inspecting and packing of client orders. 
Want to learn more about Donna? Continue reading!
What makes you laugh?
My grandchildren. They have the wildest imaginations, and we are always doing things that are fun and goofy.
Are you a morning or a night person?
I am mostly a morning person, but I do like to have my coffee before I do anything.
What are a few of your hobbies?
I love to read. I encourage my grandchildren to read and then we act out the stories. We have had so many adventurous days doing this.
Do you have a favorite moment helping a client?
My favorite moment was working on Project Bread Walk for the first time. The whole company got together and gave it their all to make it a success. I really enjoyed doing it as a group.
What's your favorite holiday?
Halloween is my favorite. I love being able to dress up in a different costume each year, and going trick or treating with my family. I've also won best costume at CFS two years in a row! Check out the costumes below.

Stay tuned for more Meet the Team!