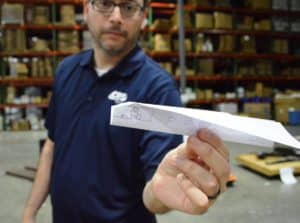 Meet our Creative Director – Marlon. His daily activities include creating corporate branding and marketing materials for a variety of clients and CFS, as well as collaborating with customers, and strategic partners. He is also on the marketing team and assists in corporate social media posting and executing email marketing campaigns.
Let's get to know Marlon!
What advice would you give someone going into your field?
Never stop learning, whether it's the newest design trend or the latest version of Adobe Photoshop. Design is a never-ending pursuit for the perfect design.
What is a random fact a person may not know about you?
In college, I played bass guitar in a heavy metal band called Room 18. We made an album, went to Hollywood and got to play at the legendary Roxy and Whisky A Go Go on the Sunset Strip.
What are a few of your favorite hobbies?
I have a lot of hobbies but my favorite is building puppets, kind of like the ones you see on the Muppet Show and Sesame Street.
What was the last movie you went to? What did you think?
Beauty and the Beast, the new live action version. I thought it was great. I'm a big fan of everything Disney!
What's the #1 most played song on your iPod?
I'm not sure what song I've played most, but I've been listening to the Monkees a lot lately. I saw them at Twin River Casino a few months ago so they've been on heavy rotation on my iPod lately. I'd have to probably say "Last Train to Clarksville" or "Daydream Believer"
If you could meet anyone living or dead, who would it be and why?
Jim Henson or Steve Jobs, they were both brilliant visionaries who have had an important impact on my life. It would definitely be an incredible conversation.
What super power would you like to have?
Definitely teleportation. It would make my commute to work so much easier.
If you'd like to connect with Marlon on LinkedIn – click here, or you can send him an email marlon@cfsinc.com.